GCS 100XL bioconversion unit
GCS 50 bioconversion unit
GCS 25 bioconversion unit
Model GCS 100 bioconversion unit
Engineered to tackle the heaviest levels of bioburden. The GCS 100 employs five square meters of catalytic surface and 40 254-nanometer bulbs for maximum molecular conversion power. The 100 adds dwell time to the process to ensure elimination of high volume bio-particulate in the most extreme situations such as operating theaters, critical care units and food processing lines. Used in clusters, the 100 is the professional air manager's most powerful tool.
Model GCS 50 bioconversion unit
The industry standard for protection in settings with conventional levels of bioburden. The GCS 50 presents 2.5 meters of catalytic surface and 20 254-nanometer high K-factor lamps to produce air cleansed to a 99.99% level every minute. The 50 is appropriate for most situations including large cold storage facilities and public spaces. Where large areas are involved, several units may be required to cover the space.
Model GCS 25 bioconversion unit
Developed to manage smaller volume conditions, the 25 displays 1.25 meters of catalytic surface to 10 high intensity 254-nanometer lamps, ensuring particulate elimination a 99.99% level. The 25 is appropriate for individual rooms (private offices), cold storage rooms, floral display cases and many public spaces where odors may be present. Ideal for direct intervention where air quality is a concern such as lavatories or rooms subject to mold.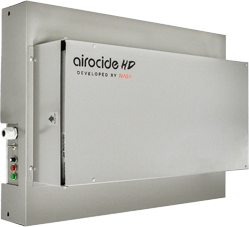 Created for large industrial spaces, large workspaces, and large gathering spaces, the AiroCide HD-25000 unit purifies the air in post-harvest, food processing, and transportation environments, schools, offices, etc